Watch again: Trump announces deal to end US government shutdown
Comments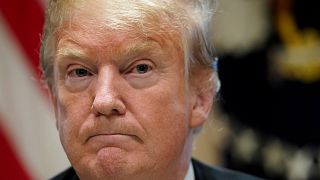 US President Trump announced on Friday that a deal has been reached on legislation that would temporarily reopen the US government.
In a statement in the White House Rose Garden, he said he would sign a bill to open government for three weeks until February 15.
It came as the government shutdown reached its 35th day.
Trump said in the meantime a bipartisan committee of lawmakers would meet to discuss the nation's border security needs.
The Democrats and Republicans have been at loggerheads over $5 billion (€4.3 billion) in funding for the border wall.
The deadlock has affected some 800,000 federal employees who have been either out of work or working without pay since the stalemate was reached.
Trump said employees would receive their backpay "very soon".
_Watch Trump's speech in full in the video player above. _