Raw Politics in full: 'gilets jaunes', Italy vs. France and migrant crisis
Comments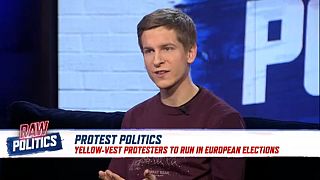 PROTESTS POLITICS
Fance's 'gilets jaunes' (yellow vests) have announced plans to run in the upcoming European elections, as they try to turn their support on the streets into votes. An Elabe poll revealed that the anti-government protesters stand to win 13% of the votes this May.
ITALY VS. FRANCE
Tensions between the allies have heightened since Italian Deputy Prime Minister Luigi Di Maio attributed the death of 170 migrants in the Mediterranean this weekend to French colonialism.
VARADKAR ON BREXIT
The Irish prime minister spoke to Euronews about Brexit and renewed violence at the Irish border. 
MONEY TALKS
While 47 migrants are stranded off the coast of Malta, unable to seek asylum, some people are able to buy their way into Europe with so-called "golden passports."
AND... WIGGING OUT.
Footage from Prime Minister's Questions on Wednesday appeared to show a lawmaker commenting on the authenticity of Tory MP Michael Fabricant's hair.
_Watch the full episode by clicking on the player above. _