Pope Francis launches 'Click to Pray' app in six languages
Comments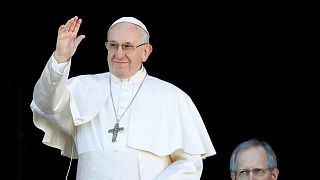 Pope Francis has launched a new app called 'Click to Pray' and encouraged people to download it.
He presented the Vatican's latest digital platform, known as the Worldwide Network of Prayer with the Pope, during his traditional Sunday address to tens of thousands of people in St. Peter's Square in Rome, Italy.
The pontiff said the network can help people in the community to pray together.
It will inform the user what the pontiff is praying for, such as world peace or a country hit by a natural disaster, so they can join him, he explained.
A Vatican statement said a website, www.clicktopray.org, would allow the faithful to "accompany the pope in a mission of compassion for the world".
In the Message for the World Day of Social Communication, the Pope is quoted saying there is a "reflection on the network communities and the human community.
"Internet and Social media are a resource of our time; an opportunity to stay in touch with others - to share values and projects, and to express the desire to cultivate communities."
The Vatican's blog post will be published on January 28. 
The app is in six languages and will be launched ahead of World Youth Day 2019, which takes place in Panama from January 22 - 27.