Air pollution in Hungary accounts for thousands of premature deaths a year
Comments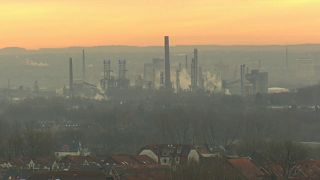 Air pollution is a leading cause of premature deaths this century. According to a new study, every year nine million people die because of air-pollution related illnesses - the same number of deaths as those caused by cigarettes.
The death rate from air pollution in Hungary is said to be the second highest in the world coming just behind China. As many as 10,000 people die prematurely in the country each year because of diseases linked to air pollution.
Last year, environmental organisations took legal action against the authorities in Hungary's capital, Budapest over illegal and harmful levels of air pollution in the city.
But it's not just in the big cities that air pollution is a problem. Small villages in mountain areas are also exposed.  The main cause - the smoke coming from chimneys.
Pollution from heating increases the level of ultra-fine particles in the air by 20 which is very dangerous,  explains environmentalist Peter Lenkei.
"Unlike bigger particles which come to a halt in our respiratory tracts the smallest particles of dust in polluted air can easily get into our bloodstream and cause cardiovascular illnesses which led to stroke or heart attack," he says.
It may be of little comfort to Hungarians to know they are not the only Europeans suffering from poor health due to air-pollution.
In May last year, the European Commission took Germany, Britain, France, Italy, Romania, as well as Hungary, to the bloc's highest court for failing to comply with EU air quality standards.