Prince Philip caught driving without a seatbelt after car crash
Comments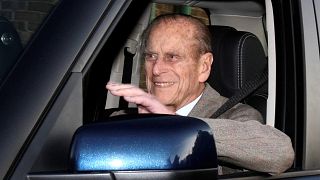 -
Police in Britain have spoken to Prince Philip after he was pictured driving without a seatbelt just 48 hours after being involved in a crash with a car carrying two women and a baby.
The crash took place on Thursday near the royal family's Sandringham Estate, in Norfolk county, some 185 kms northeast of London. Pictures from the scene showed Prince Philip's Land Rover turned on its side.
The Duke, 97, walked away without an injury but he was nonetheless taken to hospital for a check up, Buckingham Palace said. 
The crash sparked a debate in the UK over whether it is suitable for elderly people to carry on driving.
But it emerged on Saturday that the Prince Consort had returned to the road in a new Land Rover. However, pictures released by the Daily Mail and the Sun on Saturday show him driving without a seatbelt, an offence that could carry an on-the-spot penalty fine of 100 pounds (€114).
Norfolk Police said that "suitable words of advice have been given to the driver."
"This is in line with the standard response when being made aware of, or receiving, such images of this offence," it added.
It has been reported that the Duke passed an eye test on Saturday morning.
But Emma Fairweather, 46, who broke her wrist in the crash, added to the pressure telling the Daily Mirror newspaper on Saturday that the Prince had not apologised to her. 
"I'm lucky to be alive and he hasn't even said sorry," she said.
"It has been such a traumatic and painful time and I would have expected more of the Royal Family.
"Instead, I got a call from a police family liaison officer. The message he passed on didn't even make sense. He said "The Queen and the Duke of Edinburgh would like to be remembered to you." That's not an apology or even a well-wish." she added.
The other passenger suffered some cuts. The baby was unharmed.