Thousands protest in Budapest against government's labour reforms
Comments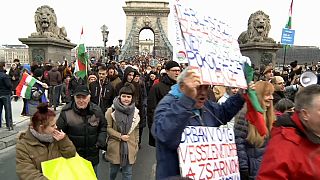 It's been dubbed a 'slave law' because it allows employers to ask staff to work the equivalent of six days a week, or up to 400 hours of overtime every year.
Some protesters called for a general strike which would be the first since the communist era if it goes ahead.
"We have had enough of the government, we have had enough of politics and we want to make a change," said one elderly woman, who wished to remain anonymous.
Protesters also staged road blockades in more than a dozen cities, indicating that the dissent is spreading out from the capital.
At some of them more than 100 cars occupied half of the road.
Hungary has both an aging population and a big shortage of workers compounded by the government's nationalistic opposition to immigration.
The protests are now becoming more generally anti-government in nature, taking aim at corruption and Prime Minister Viktor Orban's abuse of the media to channel his propaganda, but they're not yet increasing in size.
A survey by pollster Zavecz Research published earlier this week showed support for the ruling Fidesz party dropped by three points to 32 percent of voters in January, but even so, Orban's ruling party remained well ahead of its main rivals.