Four men arrested over car bomb attack in Northern Ireland
Comments
By Angela Barnes, Alice Tidey & Reuters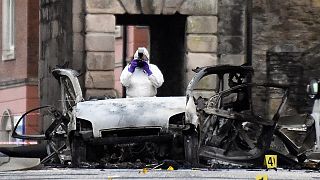 -
Copyright

REUTERS/Clodagh Kilcoyne

-

GOOGLE MAPS
Four men have been arrested over a car bomb attack in Northern Ireland on Saturday night, officers said.
It comes after the Police Service of Northern Ireland (PSNI) released CCTV footage of the explosion that took place outside a courthouse in Derry/Londonderry.
One video shows the car exploding just after a group of young people walk past it, as seen in a second video released by police.
UK Prime Minister Theresa May condemned the attack in a statement in parliament on Monday.
"I'm sure that the whole House will join me in condemning Saturday's car bomb attack in Londonderry, and paying tribute to the bravery of Northern Ireland police and the local community," she said.
Authorities believe that the "New IRA (Irish Republican Army)" group is responsible and condemned the attack as "unbelievably reckless."
The Police Service of Northern Ireland (PSNI) said in a statement that it received information at about 8 pm on Saturday that a device had been left at the courthouse.
"We moved immediately to begin evacuating people from nearby buildings including hundreds of hotel guests, 150 people from the Masonic Hall and a large number of children from a church youth group," it said.
"The device detonated at 8.10pm," it added.
One witness posted a video of the explosion on Instagram. It shows a vehicle on fire in the street.
'New IRA'
Assistant Chief Constable Mark Hamilton said the PSNI's main line of inquiry is that the dissident 'new IRA' group is responsible.
He described the attack as a "very significant attempt to kill people in the community."
The nationalist New IRA — also called the 'Real IRA' — is a dissident republican paramilitary group formed in 2012. It opposes the 1998 Good Friday Agreement, which put an end to more than three decades of bloody sectarian violence in Northern Ireland.
For Hamilton, the bombing is not an escalation of the militant group's capabilities but a continuation of a threat that has been officially at the "severe" level for 10 years.
'Not representative of our city'
MP Elisha McCallion from the republican Sinn Fein party condemned the attack in a statement.
"Thankfully no one appears to have been injured in this incident. Derry is a city moving forward and no one wants this type of incident. It is not representative of the city," she wrote.
SDLP MLA Mark H Durkan tweeted a picture of the scene and said the people of Derry don't want this.
"We are trying to move Derry forward and will not let anyone drag us back to the dark days of the past," he said in his post.
Tánaiste or Ireland's Deputy Prime Minister Simon Coveney warned that "there is no place and no justification possible for such acts of terror, which seek to drag Northern Ireland back to violence and conflict."