Asteroids are crashing into Earth more than before but don't worry, there's no immediate danger
Comments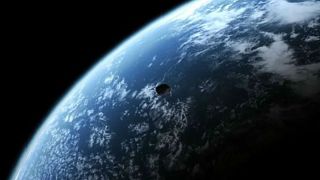 Asteroids are crashing into Earth more often than they used to.
In the past 290 million years, giant rocks have been striking our home planet and the moon 2.6 times more often than in the previous 700 million years, according to a new study published in a science journal.
But don't worry, NASA doesn't think we're in any immediate danger — scientists said that asteroids only hit Earth every million or few million years.
Most scientists think dinosaurs went extinct after an asteroid crashed into Earth about 65 million years ago, which falls into the same time period that we're still in.
The biggest current risk is a 1.3-km-wide asteroid that will most likely miss Earth when it flies by in 861 years.
Asteroids that pose a real threat to Earth are those measuring 1km in width or more.
"Smaller sizes aren't going to have global effects, but we could still have regional effects or in the case of small ones, local effects," said William Bottke, the Director of Space Studies at the Southwest Research Institute in Colorado and a co-author of the study.
Bottke mentioned an incident back in 2013 when a small 20m asteroid fell in the city of Chelyabinsk in eastern Russia.
It is hard to see the impact of craters on Earth, so scientists are using the moon as a guide to better understand how the rate of asteroid landings has changed over time.
There is less risk of craters being worn off the moon, so it's easier to see how many big rocks have struck it.