Israel locates Hezbollah tunnel on Lebanon border
Comments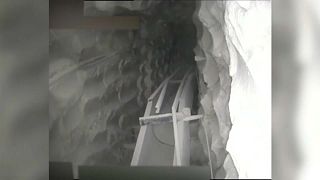 Israel says it has located the sixth and largest tunnel crossing into the country from Lebanon.
The find is a part of Operation Northern Shield aimed at detecting and destroying what Israel calls a vast network of Hezbollah tunnels.
The military said the tunnel ran almost 800 metres, was fitted with a rail system and had a wide a passageway that allowed for the movement of equipment and a large number of forces.
The defense ministry says it is in the process of being destroyed. It says it has now found all Hezbollah tunnels on the Lebanon border.
It comes as Israel acknowledged that it has carried out a weekend air strike on an
Iranian arms cache at Damascus airport in Syria,
Prime Minister Benjamin Netenyahu said the country has been taking action with impressive success to arrest Iran's military entrenchment in Syria.