Guatemala protests after President Morales shuts anti-corruption unit
Comments
By Reuters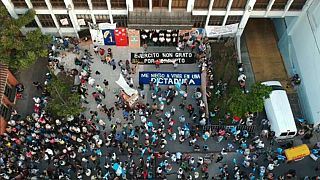 A large crowd on Saturday protested against Guatemalan President Jimmy Morales' decision to shut down a United Nations-backed anti-corruption commission in the Central American nation.
Hundreds of people took part in the demonstration in Guatemala City after Morales announced last Monday that he was ending the International Commission Against Impunity in Guatemala's (CICIG) run in the country and ordered its foreign staff to leave within 24 hours.
Guatemala's top court blocked the expulsion.
The head of CICIG wrote in a letter to the UN secretary-general that the intensity of the character attacks and threats on the commission has increased since cases were brought against high-powered political and economic interests.
The CICIG was established in 2007 and played a major role in the downfall of Morales' presidential predecessor Otto Perez Molina, who resigned in 2015 and was subsequently prosecuted for corruption.
It has also targeted Morales and his family members in investigations of suspected corruption and campaign finance violations.
Morales says the commission has exceeded its authority.