No delay to Brexit deadline, despite media report — PM spokesperson
Comments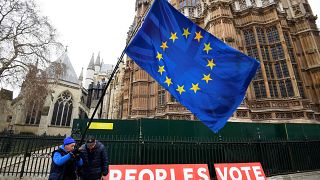 Prime Minister Theresa May has and still rules out delaying Brexit by extending Article 50, her spokeswoman Alison Donnelly told reporters.
The government will ensure the legislation needed for leaving the EU will be passed in time for Brexit day on March 29, she said.
Asked if May rules out extending Article 50, Donnelly said: "Yes, and she has done."
"It's government policy that this is not something we are going to do," she said.
Prime Minister Theresa May is currently debating her Brexit deal with MPs in the House of Commons ahead of a vote on January 15.
A senior minister told the Evening Standard newspaper: "The legislative timetable is now very very tight indeed.
"Certainly, if there was a defeat on Tuesday and it took some time before it got resolved, it's hard to see how we can get all the legislation through by March 29."
Sterling rose on the news of a possible Brexit dealy, with the pound jumping half a percent to hit the highest rate since late November.
European Commission President Jean-Claude Juncker said on Friday that he was in touch with the UK government to help Theresa May win parliamentary support for the Brexit deal.
"Every effort needs to be made to make sure this important issue is resolved satisfactorily," he said.
However, Juncker said EU Member States are against reopening talks on the current deal, which was agreed with May in November last year.