Longest-serving MEP, Elmar Brok, could soon be pushed out | Raw Politics
Comments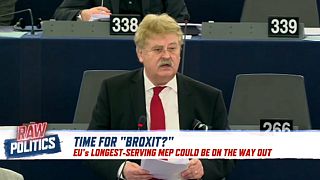 Germany's Elmar Brok, the longest-serving member of the European Parliament, could be on his way out after losing a spot on the EU election list of his party, the Christian Democratic Union.
Brok, a close ally of German Chancellors Helmut Kohl and then Angela Merkel, was first elected to the European Parliament in 1980. In his nearly 40 years as an MEP, he has been a regular fixture in Brussels for his role on various committees.
He is particularly respected for his knowledge of the US and Russia.
For Euronews' political editor, Darren McCaffrey, his current predicament is "a reflexion of the diminishing power of Angela Merkel".
Brian Maguire, a reporter for Euractiv.com, joked that Brok's departure from Brussels would mostly impact the media.
"Journalists will lose more than everybody else. Brok is a great character to have in front of the camera," he explained.
For more on Brok's career and the Raw Politics panel on the topic, watch the video in the player above.