Why is El-Sisi's move to open Egypt's biggest cathedral vital for Coptic Christians?
Comments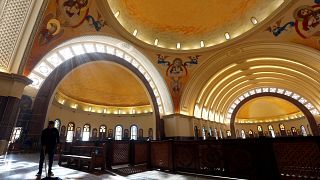 Egyptian president Abdel Fattah el-Sisi inaugurated the country's largest Coptic church on Sunday - the eve of Coptic Christmas - sending a message of unity across the country.
In the player above, you can watch El-Sisi inaugurate the new cathedral.
The Cathedral of the Nativity was built in Egypt's New Administrative Capital (NAC), which will house government buildings and a new airport in an effort to ease congestion in Cairo.
A new mosque was also inaugurated that same day.
How big is the church?
Adorned with Coptic icons, the new Coptic Cathedral can accommodate more than 8,000 worshippers. The church is located in Egypt's NAC — a new city located 45 kilometres east of Cairo, which the government will begin using later this year.
When was the new church inaugurated?
El-Sisi inaugurated the church on the eve of Coptic Christmas on Sunday under tight security after a policeman died on Saturday trying to defuse a bomb found near a church in an eastern suburb of Cairo, reported state television.
"This is an important moment in our history," said El-Sisi in a speech during the inauguration of the cathedral. "We are one and we will remain one," he added, referring to Egyptian Christians and Muslims.
The head of the Coptic church Pope Tawadros II praised El-Sisi's decision to open the church before presiding over midnight mass in the new cathedral: "On this day we see you have fulfilled this promise and here we are witnessing a great opening on this grand occasion,"
Who are Egypt's Coptic Christians?
Coptic Christians make up around 10% of Egypt's population. Muslim's being the overwhelming majority.
They have been the target of Islamic militants, including IS, in recent years who see them as infidels, prompting authorities to place armed guards outside churches and monasteries.
A new mosque was also opened
Egypt's largest mosque was also inaugurated on Sunday. The Al-Fattah Al-Aleem Mosque will be able to accommodate 16,000 people and is also located in the new administrative capital.