Europe briefing: Six stories to know about today
Comments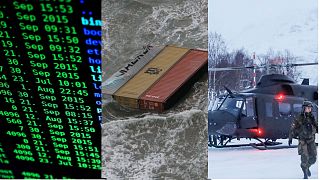 1. Hackers publish personal data from hundreds of German politicians
Hundreds of German politicians had personal data published online, a government spokesperson confirmed on Friday.
Public broadcaster ARD TV, which first reported the story, said personal data including credit card details and mobile phone numbers had been published on a Twitter account in late December.
The hack appeared to target all of Germany's political parties currently represented in the federal parliament, except for the far-right Alternative for Germany party (AfD).
The far-left Linke party confirmed that it had been hacked, while a government spokesperson said that no sensitive information from the Chancellery, headed by Angela Merkel, had been affected.
In a statement to Euronews on Friday morning, AfD said that as far as it could tell, its members had not been exposed by the hack and rejected any responsibility. "Are you kidding?" they said.
The German Federal Office for Security and Information Technology tweeted that they were "intensively examining the case in close cooperation with other federal authorities."
2. Nazanin Zaghari-Ratcliffe
The British-Iranian national, who has been detained in Iran since April 2016, announced on Thursday that she would go on hunger strike for three days starting on January 14.
She is protesting being denied access to a doctor and medication. Her husband, Richard, has previously said that she has suffered panic attacks, which triggered headaches and numbness in her legs.
Narges Mohammadi, a prominent Iranian human rights activist, who was sentenced to 22 years in jail for criticising the Iranian government will join Ratcliffe in her hunger strike.
"We declare that we shall take other steps in protest if the authorities of the Islamic Republic of Iran fail to act and further endanger our health," they said in an open letter.
3. Brexit
New year, new Brexit woes for British Prime Minister Theresa May.
Sammy Wilson, the Brexit spokesman for Northern Ireland's Democratic Unionist Party, which props up May's minority government in parliament, told BBC Radio 4 on Friday that there's no way his party can support the Withdrawal Agreement.
He described the backstop solution — which was designed to avoid a harder border on the island and will kick in at the end of a planned transition period — as a "con trick" and urged businesses to be "totally relaxed" in the event of a no-deal Brexit.
His comments come just a day after a European Union spokesperson reiterated that the deal would not be renegotiated, further weakening May's stance, as she had told MPs she would seek more concessions from the bloc.
"I think we have said many times that the deal that is on the table is the best and only deal possible and the EU 27 leaders confirmed on December 13 in their conclusion that it will not be renegotiated," Mina Andreeva told reporters on Thursday.
4. Salvini lashes out at mayors over migrants
Italy's Interior Minister Matteo Salvini has branded mayors who pledged to welcome migrants currently stuck at sea "traitors to Italians."
Salvini, who is also the leader of the right-wing anti-immigration Northern League party, lashed out on Twitter after Luigi de Magistris, the mayor of Naples, wrote a letter to the Sea Watch NGO vowing to take in some of the migrants onboard its Sea Watch 3 ship.
The vessel is one of two boats that have been stranded at sea for the past two weeks, awaiting the authorisation to dock, with a combined total of 49 migrants onboard.
Since coming into power last year, Salvini has denied humanitarian vessels the right to dock in Italian ports, calling on other EU member states to take a greater share of arriving migrants. It has led NGO vessels to spend days stranded at sea with rescued migrants, while countries negotiate.
Sea Watch criticised EU leaders in a tweet on Thursday for continuing to "bargain over 32 human lives." "We might look miserable, but they are pathetic," it added.
5. Cargo spill sparks sandy free-for-all on Dutch beach
Dutch authorities called on the public to stay away from the Frisian coastline where hundreds of containers washed up after a cargo ship lost part of its shipment because of risks posed by dangerous chemicals.
The previous day, treasure hunters had happily picked up flat screen televisions, light bulbs, car parts and furniture.
The Dutch Coast Guard said up to 270 containers had fallen off the Panamanian-flagged MSC ZOE, one of the world's biggest container ships, in rough weather near the German island of Borkum. They proceeded to float southwest toward Dutch waters.
John Hourston, Founder of the Blue Planet Society pressure group, said that at least three of the containers contained organic peroxide.
"Who knows what the long-term impact" of the spill will be, he told Euronews.
6. Police in Norway suspend search for four tourists who went missing after avalanche
Bad weather conditions in Arctic Norway forced police to suspend the search for four missing tourists suspected of being swept away by an avalanche.
Authorities said the increasing risk posed by the avalanche has made the conditions dangerous for rescue crews and that they were unable to launch a helicopter search due to deteriorating weather conditions.