Spacecraft beams back first images of most distant object observed by mankind
Comments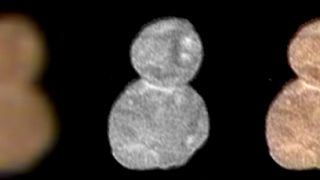 A NASA spacecraft travelling through space sent back pictures of the most distant object explored by mankind on Wednesday.
At about four billion miles from Earth in the Kuiper Belt, spacecraft New Horizons captured the never seen before close-up images of Ultima Thule, an icy celestial object about 20 miles long.
Jeff Moore, a NASA scientist said the object is made up of two spheres that formed when icy pieces coalesced in space billions of years ago.
The two spheres spiraled closer to each other and eventually got stuck together. NASA said the joining of the two objects illuminates the processes that built the planets billions of years ago.
"New Horizons is like a time machine, taking us back to the birth of the solar system. We are seeing a physical representation of the beginning of planetary formation, frozen in time," he said.
"Studying Ultima Thule is helping us understand how planets form — both those in our own solar system and those orbiting other stars in our galaxy."
The nuclear-powered space probe has travelled for over 4,700 days since launching in January 2006.
In 2015, New Horizons flew by Pluto, and found the planet is larger than previously thought. The probe will now study the makeup of Ultima Thule's atmosphere and terrain for further clues about how solar system and planets form.
"This flyby is a historic achievement," said New Horizons Principal Investigator Alan Stern of the Southwest Research Institute in Boulder, Colorado.
"Never before has any spacecraft team tracked down such a small body at such high speed so far away in the abyss of space. New Horizons has set a new bar for state-of-the-art spacecraft navigation," said Stern.