Antarctic scientists record 'eerie' sounds of space
Comments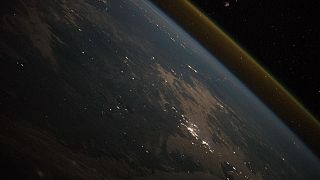 Scientists at a research station in Antarctica recorded "eerie" sounds of space using an antenna which lies beneath the Earth's geomagnetic field lines.
The team at the British Antarctic Survey (BAS) used a receiver at the Halley Research Station in Antarctica to detect signals from lightning activity and space storms.
Researchers then turned the signals into audio that can be heard by the human hear.
Each lightning flash on Earth emits a short pulse of radio waves, some of which leak into space, researchers said.
Once in space, the waves are guided by the Earth's magnetic field to the opposite hemisphere.
This activity emits a tone known as "whistlers".
Another type of sound recorded by researchers are the so-called "chorus" emissions.
These are generated within the Earth's magnetosphere — the region of space surrounding the planet.
During geomagnetic storms, which are driven by the Sun, electrons enter the magnetosphere and generate the chorus emissions.
Nigel Meredith, a space weather Scientist at the British Antarctic Survey, has been working on the Sounds of Space project for over four years.
"Our planet produces a wonderful variety of radio emissions," Meredith said at a recent presentation on the sounds of space at the BAS centre in Cambridge, United Kingdom.
"As we know, we can't hear things in space. Since sound waves are vibrations, typically of air molecules.
"But the emissions we're talking about are mainly electromagnetic waves and they cannot be heard directly."
Researchers convert the recordings of emissions into waveform audio files which can be played back and listened to as sound.
The emissions can also be detected using a simple radio receiver and turned to sound waves with an amplifier, so anyone can and record these sounds of space themselves with the right equipment.
The team at BAS said they use the recordings to investigate space weather and the impacts of it on the Earth's climate system and for lightning detection, as well as to "reveal the mesmerising and fascinating sounds of space."