Netflix blocks comedy episode in Saudi Arabia after Kingdom complains
Comments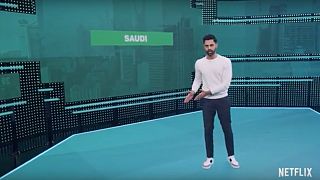 -
Netflix has blocked an episode of a comedy show criticising Saudi Arabia's Crown Prince over the murder of journalist Jamal Khashoggi from streaming in the country after the Kingdom issued a complaint.
The platform confirmed to the Financial Times (FT) on Tuesday that it had blocked the second episode of comedian Hasan Minhaj's "Patriot Act" show from streaming in Saudi Arabia after the Saudi Communications and Information Technology Commission filled a formal complaint.
The decision has drawn condemnation from rights groups.
In the episode Minhaj questions the role of Saudi Arabia's de-facto ruler, Mohammed bin Salman, in the killing of Khashoggi, a Washington Post columnist and critic of the Saudi regime.
The journalist was killed in the Saudi consulate in Istanbul, Turkey, in early October. Saudi Arabia initially denied the murder, insisting Khashoggi had left the premises before eventually admitting to the killing.
But the Kingdom has vehemently denied accusations that the murder was ordered by the Crown Prince, arguing instead that it was a "rogue" incident and it has charged 11 people for the crime.
Several Western countries, including US intelligence agencies, have however cast doubt on this version of events, pointing the finger at Mohammed bin Salman.
Minhaj also criticised Saudi Arabia for its role in the Yemeni conflict.
'Artistic freedom'
In a statement to the FT, Netflix defended its decision saying: "We strongly support artistic freedom worldwide and only removed this episode in Saudi Arabia after we had received a valid legal request — and to comply with local law."
The streaming giant told the newspaper that the country had invoked Article 6 of the law which states that "production, preparation, transmission, or storage of material impinging on public order, religious values, public morals, and privacy, through the information network or computers" is a crime. The crime incurs up to five years in jail and a fine of up to three million Saudi riyals (€700,000).
The episode is still available on Netflix in other regions. It is also available worldwide on Minhaj's Youtube channel.
'Thin-skinned royals'
Minhaj has not yet commented on Netflix's decision to remove his episode from streaming in Saudi Arabia.
Sarah Leah Whitson, executive director of the Middle East and North Africa division at Human Rights watch, blasted the move as censorship.
"Netflix's claim to support artistic freedom means nothing if it bows to demands of government officials who believe in no freedom for their citizens — not artistic, not political, not comedic.
"Every artist whose work appears on Netflix should be outraged that the company has agreed to censor a comedy show because the thin-skinned royals in Saudi complained about it," she wrote on Twitter.
Khashoggi's former editor at the Washington Post, Karen Attiah, also lambasted the removal of Minhaj's show from Saudi Arabia as "quite outrageous."