Europe briefing: At least six dead in Denmark train accident
Comments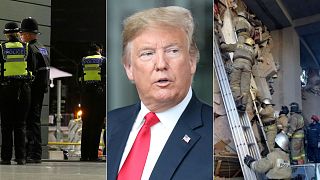 At least six people killed after a train accident in Denmark
At least six people were killed and 16 injured in a train accident in Denmark on Wednesday morning, police on the Island of Fyn said on their official Twitter account.
The accident, which took place around 7:35 am CET shut the bridge linking Fyn to the island of Sjaelland — also known as the Great Belt Bridge. The bridge has since re-opened.c.
Russia building collapse
Rescue workers said a total of 21 bodies had been recovered from the debris left by a collapsed building in the Russia city of Magnitogorsk. A 10-month-old baby was pulled out from the rubble alive on Tuesday after spending 35 hours in subzero temperatures. 20 people are still missing. A region-wide day of mourning is scheduled for Wednesday.
Manchester stabbings
British police on Tuesday confirmed that a 25-year-old man had been detained under the Mental Health Act over a New Year's Eve stabbing attack that left three people injured. A counter-terrorism investigation into the incident is ongoing.
Italy's Uffizi gallery demands return of Nazi-looted painting
The Italian Uffizi gallery in Florence has asked Germany for the return of a still-life painting by Dutch artist Jan van Huysum that was taken by Nazi troops in WWII. The "Vase of Flowers" painting was originally put on display in the Pitti Palace in 1824 after it was bought by the Grande Duke Leopoldo II for his art collection. It was taken by retreating Nazi forces in 1940.
Spanish police discover migrants hidden in mattresses
Spanish border officials at the country's frontier with Morocco in Melilla uncovered two migrants trying to enter the country while hidden in mattresses on Sunday. The Spanish Guardia Civil took two hollowed-out mattresses off the roof of a car and cut them open to reveal to males inside. A video of the scene has gone viral.