Protests cancel NYE festivities in Bosnian city | #TheCube
Comments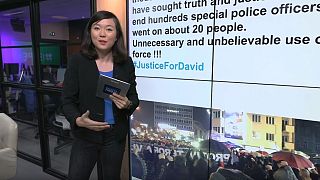 Continued protests in Serb-run Banja Luka, a city in northwest Bosnia, have caused the cancellation of New Year's Eve festivities.
Demonstrators are demanding the resignation of the Bosnian Serb interior minister, Dragan Lukac, and several police officials over their investigation into the death of student David Dragicevic who was found dead in a creek in March.
Davor Dragicevic, David's father, has led protests coined "Justice for David" and is calling for clarity into the investigation after police initially stated that his death was due to suicide. Dragicevic alleges the police have covered up the truth of his son's death.
The investigation is still ongoing, with no prosecutions to date.
Demonstrations in Banja Luka on Sunday led to the cancellation of a concert in the city's centre while police detained several people for "committing minor and criminal offences".
The mayor of Banja Luka's office confirmed to Euronews that the incident has caused the cancellation of further New Years Eve celebrations planned for this evening.
Dragicevic was arrested during protests on December 25, in a move condemned by some, including the EU ambassador to Bosnia and Herzegovina, Lars-Gunnar Wigemark.
On Twitter, Wigemark said that he was "deeply concerned" about the arrest of Dragicevic and others, and added that the EU was "about to react officially".
Although Dragicevic was released the following day, a Ministry of Interior spokesperson informed Euronews that police were searching for Dragicevic and four others on Monday following Sunday's protest.
In a statement to Euronews, the spokesperson said that "no man is above the law, including the father suffering because of the unsolved case of tragic death of his son".
"We have tried to show him that we are doing the best we can to investigate the case and we allowed him and his attorneys to have insight in the steps we did in the case, which is uncommon for investigations not only in [Bosnia and Herzegovina] but in the region as well".
"We have to protect the dignity of not only the Ministry but also of other institutions and other citizens – the citizens who have the same rights as Davor and who could ask us why they have to follow the rules if it is possible to do otherwise," the statement continued.
The protests that were sparked in the nine months since David Dragicevic's death have formed part of a wider movement against corruption in the region.
Bosnia-Herzegovina held its seventh presidential and parliamentary elections in October with the run-up clouded by ethnic divisiveness. The Bosnian-Herzegovinian governmental system is arguably the most complex in the world and was created following the end of the Yugoslav War in 1995.
Two autonomous governments, the Serb-dominated Republika Srpska and Bosniak-Croat Federation link through a central government with a tripartite interethnic presidential system.
Watch the player above as The Cube's Cindy Pom gives all the latest updates on the protests.