Trump blames "pathetic" Democrat immigration policies for childrens' deaths
Comments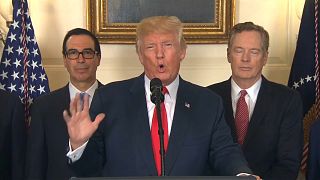 US President Donald Trump has laid the blame for the deaths of two migrant children in custody squarely on the Democrats.
Trump tweeted: "Any deaths of children or others at the Border are strictly the fault of Democrats and their pathetic immigration policies that allow people to make the long trek thinking they can enter our country illegally. They can't. If we had a Wall, they wouldn't even try".
In a subsequent tweet Trump added: "The two children in question were very sick before they were given over to Border Patrol. The father of the young girl said it was not their fault, he hadn't given her water in days. Border Patrol needs the Wall and it will all end. They are working so hard & getting so little credit!"
U.S. Secretary of Homeland Security Kirstjen Nielsen inspected a border detention facility in Arizona where medical checks of migrant children are being expanded. following the outrage over the childrens' deaths.
Both children were from Guatemala, which for most of the last 50 years has been torn apart by guerilla conflict, ethnic massacres, dictatorships and poverty.