Spain's 'ninja hairdresser' uses swords and blowtorches to service clients
Comments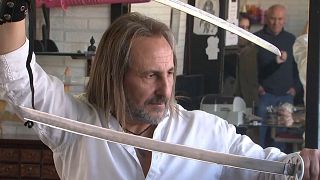 Bored of your hairdresser? A trip to Madrid may be what you need.
Blowtorches and ninja swords are part of the unique methods Alberto Olmedo uses for his clients who are searching for a new look.
At the 'Alberto Olmedo' salon in Campamento, south Madrid, Olmedo uses medieval techniques to offer an unconventional haircut.
"People have been using small daggers to cut hair for hundreds of years," the hairdresser told Spanish daily, El País.
"I'm practically using primitive tools: fire, swords, it's a bit medieval," Olmedo added.
Born to Spanish émigré parents in France, where he grew up, Olmedo says he started using swords as a way to layer hair. Almost all of his seven employees, including his wife, have learned to utilise the technique.
He claims that his approach is inspired by Renaissance tradition and swords enable a hairdresser to cut hair from both sides of the head at the same time.
Olmedo says the swords also result in a more even finish and started the process when he became disillusioned with scissors.
Braver clients can opt for a haircut involving inserted claws which protrude out from each of Olmedo's hands.
Olmedo says his salon's next project will involve precision lasers.