Deadly protests in Sudan enter a ninth consecutive day
Comments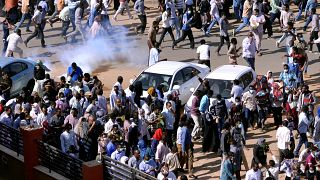 Anti-government protests that have claimed multiple lives in Sudan continued for a ninth consecutive day on Friday. You can see similar protests from December 25 in the player above.
Hundreds of people in Omdurman, near the Sudanese capital Khartoum, heeded calls by opposition parties to take to the streets and chant slogans after Friday prayers at a local mosque, according to witnesses who spoke to Reuters news agency.
While their protest were reportedly non-violent - the Reuters witness claims they were chanting "peaceful, peaceful" - they were met by tear gas and stun grenades. Around 30 SUVs belonging to government security forces had surrounded the mosque, it has been reported.
The demonstrations have been a daily occurrence since December 19. They are being led by opposition parties who blame long-time President Omar Bashir for rising prices, a cash crisis and shortages of food and other vital materials. Schools have been closed and curfews imposed in some regions and there have been claims of security personnel using live ammunition on protesters.
The government's information minister says 19 people including two soldiers and looters have been killed as a result of the unrest, while 219 civilians and 187 members of security forces have been injured. NGO Amnesty International said on Tuesday that 37 people have been killed in the demonstrations. An independent daily newspaper, Al-Sudani, has said one of its staff was beaten by security forces when a protest passed in front of its offices in Khartoum. Professional organisations close to the protests say opposition figures including leaders of Sudan's Communist Party, Ba'ath and Nasserist parties have been arrested.
Sudan witnessed street protests earlier this year amid high and rising bread prices, while the country's economy in general has performed poorly since South Sudan - home to large oil reserves - seceded in 2011. President Bashir, in power since 1989, has been the target of anger over subsequent economic mismanagement.
While Bashir has faced more serious challenges to his leadership during his three-decade rule, the fall of other long-standing regimes at the hands of emboldened opposition across Africa is unlikely to have gone unnoticed within Sudan. A report in UAE-based newspaper The National in April suggests that, while Africa's politics remain disparate, diverse and myriad, a trend may be emerging continent-wide. Electoral shifts, popular protests, military intervention and ruling party infighting have contributed to seismic change at the top of politics in countries such as South Africa, Angola, Zimbabwe, Ethiopia, Gambia and Liberia within the last two years.
Few expect Sudan's current wave of protests to force Bashir to relinquish his grip on power any time soon. The context, however, has become a little different.