Euronews reports from the heart of Europe's migration crisis | Review 2018
Comments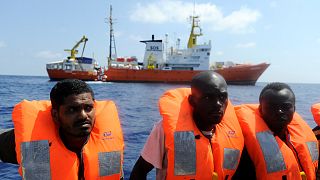 This year, the destiny of 630 men and women defied European politics and challenged the bloc's values.
Euronews' Anelise Borges was the only TV journalist on board the rescue vessel Aquarius when it saved the lives of the migrants and refugees – and sparked one of the most divisive crises Europe had faced in 2018.
It would also be one of the last times the ship would set sail in the Mediterranean Sea.
Take a look back at Europe's migration crisis and Borges' voyage in the summer in the video player above.