2018 review: Genoa still suffering from Morandi bridge tragedy
Comments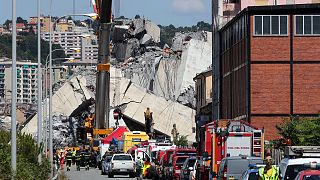 Four months after the collapse of the Morandi bridge, Euronews went back to Genoa, where businesses are still struggling to deal with the aftermath of the tragedy. The city is finding it difficult to come to terms with the sense of loss. 
Luca Infantino is a firefighter from Genoa. He was on duty on that fateful August 14. He never thought that he would one day be confronted with such disaster in his hometown.
"The issue is that I come from here, the perspective changes completely. I've driven over that bridge many times," he told Euronews. "It could have happened to me or to any of my relatives. What I find terrible is that - as a consequence of what happened - the city is split in two since a few months now".
This Christmas, the streets around the bridge are unusually empty and silent. Residents living below the viaduct had to leave their homes and local shops closed following the collapse.
"It's all empty," says Mariuccia, who lives near the Morandi bridge. "There are not many shops here. There aren't many people around. We can all feel how sad this Christmas is going to be when you think about the people who are not here anymore."
Fabrizio works for a local company that faces closure. "In a month's time it's going to be all over for us here," he says. "Myself and the rest of the employees will stop working. Nobody comes here anymore due to the collapse of the bridge. We have to close our company."
Businesses in the city suffered badly after the collapse. With losses of over 400 million euros in Genoa, many companies are finding it hard to survive. The repercussions for road traffic and logistics between the port city and the rest of Europe have been significant. Authorities have been trying to find alternative routes to the bridge.
Genoa's port is one of the largest in Europe. In the last 10 years its productivity has increased by 60% but now 3,000 companies operating there are worried about their future.
Giampaolo Botta, CEO of Spediporto told us: "This (the collapse) has meant re-structuring our activities and creating a new way of moving around the city. Together with that - we had to think of how to carry on working and operating inside the port."
The fear among many locals is that the 12-month state of emergency declared in the region won't be enough to heal Genoa's wounds.