Watch: Citroen smashes its way out of car park after shopper's bid to steal alcohol
Comments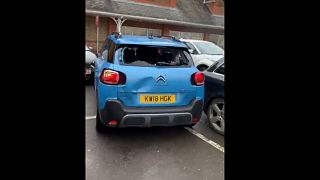 -
This is the frightening moment a vehicle tried to ram its way out of a British supermarket car park.
The footage shows it smashing into other vehicles as it attempted to leave a Tesco store in Rickmansworth, north-west of London.
In the video, the car can be seen wildly backing up before ramming, twice, into a vehicle blocking its way.
Shoppers and Tesco staff are filmed attempting to stop the vehicle by slamming it with shopping trollies but are forced to jump out of its way several times.
By the time it manages to squeeze its way through and speed off towards the exit, the car is severely dented, with one wing mirror dangling off the side and its back window completely smashed.
Police said they believed the driver and passenger "were involved in an incident inside the store moments before the collision, where a person was challenged by the store's security after attempting to steal alcohol".
Si Ward, who filmed the incident and posted it on Facebook, described the event as a "car park wars".
Police said in a statement that two people received hospital treatment following the altercation, with one of them sustaining "a serious injury".
Authorities are appealing for information to locate the car and its occupants.