IS resurgence fears, hiker killers latest: Five stories to know about today
Comments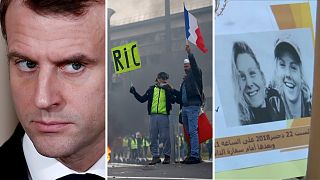 1. ISIL resurgence concerns grow following US pullout announcement
An American withdrawal from the Syrian conflict means France is likely to become the biggest foreign power to remain in the country and there are fears the so-called Islamic State could reclaim territory after big losses in recent years.
On Sunday, French President Emmanuel Macron expressed his "deep regret" after learning his US counterpart, Donald Trump, would withdraw American troops from Syria, where a civil war has endured since 2011, displacing millions.
Watch Euronews correspondent Anelise Borges' report in the video player, above.
2. Suspected ISIL militants who beheaded European tourists 'acted alone'
Two men who pledged allegiance to the so-called Islamic State after beheading two female hikers in Morocco's Atlas Mountains acted alone, officials say, describing them as "lone wolves".
The remains of Louisa Vesterager Jespersen, 24, from Denmark, and Maren Ueland, 28, from Norway were found last week en route to a popular hiking and trekking destination in North Africa's highest peak.
At least 13 men have been detained in relation to their murders, a Moroccan security and intelligence spokesman said.
3. Der Spiegel files a criminal complaint against sacked reporter
Former Der Spiegel journalist Claas Relotius could face criminal charges over allegations he persuaded readers of a partially faked story about Syrian orphans to make donations to a personal bank account.
Relotius landed himself and German news magazine Der Spiegel in hot water last week after admitting he falsified some of the 60 stories he wrote for the publication.
The American ambassador to Germany has also stepped forward with complaints against the magazine after the news broke, accusing it of "institutional bias" against the Trump administration.
4. Macron appeals for calm after 'gilets jaunes' protests continue
French President Emmanuel Macron has called for called for "order" after anti-government "gilets jaunes" ("yellow vest") protests continued for a sixth consecutive weekend.
Speaking during a visit to the central African state of Chad on Sunday, he said: "There must be order now, calm and harmony. Our country needs it."
According to the interior ministry, around 38,600 people took part in a sixth round of nationwide protests on Saturday.
5. Turkey 'to take Khashoggi investigation to UN'
Turkey is to carry the investigation into Jamal Khashoggi's murder to the United Nations, Foreign Minister Mevlut Cavusoglu said on Monday.
Cavusoglu also called on Riyadh to publicly share their findings on the case.
Washington Post columnist Khashoggi was killed in October after entering the Saudi consulate in Istanbul. US officials, including the CIA, say Crown Prince Mohammed bin Salman likely ordered his assassination.
As it happened on Monday, December 24
This is how we covered key developments this morning: