Birmingham Airport flights resume following air traffic control fault
Comments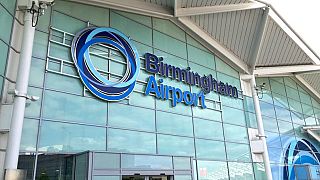 -
The UK's Birmingham Airport has resumed flights following an earlier air traffic control fault that stopped planes from landing or taking off.
"Following the earlier Air Traffic Control technical fault, Birmingham Airport has now resolved the issue and operations have now resumed. We thank passengers for their patience and apologise for any inconvenience this has caused," a spokesperson for the airport said.
Flights had been delayed, canceled and diverted at the UK's seventh busiest airport for two hours after the fault with the electronic flight plan system. 
The disruption follows a three-day drone incident at Gatwick Airport this week affecting 1,000 flights and 140,000 passengers.
Travelers in Europe took to social media to tell of their frustration. 
"Plane about to take off in Düsseldorf, pilot then parks the plane and declares Birmingham airport closed," one user said.
"A cancelled flight yesterday and now no chance of getting on our alternative option as Birmingham airport is closed due to technical difficulties. Merry Christmas," tweeted another passenger.