Trump's charitable foundation closes over corruption allegations
Comments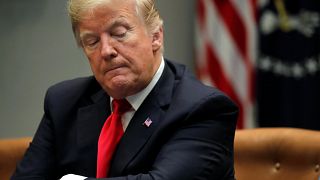 Copyright

REUTERS/Jim Young
US President Donald Trump's troubled charity foundation has agreed to close down amid allegations that he and others illegally misused its funds. The move was announced by the Attorney General of New York State, Barbara Underwood, who will supervise the distribution of its remaining monies.
Underwood has accused Trump and his three eldest children of using the Foundation for private and political gain including unlawful co-ordination with the Trump presidential campaign.
Trump has previously said on Twitter that the lawsuit was a concoction by "Sleazy New York Democrats" and that he was not willing to settle the case as the Foundation had done nothing wrong.
The state's lawsuit against the Trump Foundation spells out a range of alleged violations of laws concerning non-profit organisations. Trump was the sole signatory on the foundation's bank accounts and approved all of its grants.