Europe briefing: Five stories to know about today
Comments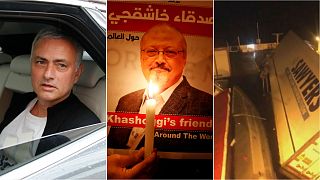 -
1. Manchester United sack manager Jose Mourhino
Manchester United sacked its manager, Jose Mourhino, on Tuesday morning, the club confirmed in a statement on its website.
The Portuguese coach, seen by some as divisive, failed to bring attacking football to the club and the insipid display against Liverpool on Sunday looks to have been the last straw.
"A new caretaker manager will be appointed until the end of the current season, while the club conducts a thorough recruitment process for a new, full-time manager," the statement from the club said.
"The club would like to thank Jose for his work during his time at Manchester United and to wish him success in the future."
2. Russian cargo ship runs aground off the English coast
A Russian cargo ship ran aground just off the coast of Cornwall, England, early on Tuesday morning.
The UK's Maritime and Coastguard Agency said the ship had "dragged anchor and grounded" amid poor weather conditions near Falmouth.
"Seas remain rough with 60 mph [96 kph] winds," the agency said in an update posted just before midday. "An attempt to refloat will be made later today."
All 18 Russian crew members aboard the ship, which was en route to Spain's north African enclave of Ceuta, were reported to be safe.
3. Global gender pay gap 'is centuries away'
A new report released by the World Economic Forum (WEF) suggests it may take more than 200 years to close the gender pay gap.
Saadia Zahidi, head of social and economic agendas at WEF told Euronews that gender equality is "stalling," and, despite any gains made "the future doesn't necessarily look positive".
4. 'Unprecedented levels' of violence against journalists in 2018
"Unscrupulous politicians" and social media platforms bear responsibility for an increase of violence against journalists, a press freedom watchdog said on Tuesday.
Eighty journalists have been killed so far this year, 348 are in prison and 60 are being held hostage, according to Reporters Sans Frontieres (RSF), which produces an annual round-up of violations against media professionals.
Christophe Deloire, RSF's secretary general, said in the report that "violence against journalists has reached unprecedented levels this year, and the situation is now critical".
"The hatred of journalists that is voiced, and sometimes very openly proclaimed, by unscrupulous politicians, religious leaders and businessmen has tragic consequences on the ground and has been reflected in this disturbing increase in violations against journalists.
5. Lorries topple over on Scotland-bound ferry amid 'extreme weather'
Several lorries toppled over aboard a P&O ferry travelling between Scotland and Northern Ireland early on Tuesday morning amid "extreme weather conditions".
Scotland Police confirmed the incident in a statement on Twitter, saying all passengers and crew were safe and that there was no-one injured.
One passenger, Dave Thorpe, said he didn't think he would be able complete his deliveries on Tuesday.
"If I was on the deck, I would have been able to touch the water it leaned that bad," Thorpe said to a friend in the Facebook comments.
As it happened for Tuesday, December 18
This is how we covered key world developments this morning: