Emerging production talent given cash boost at Les Arcs Film Festival
Comments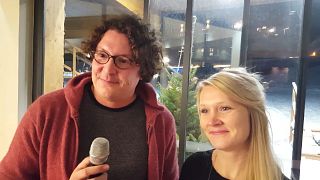 For many, becoming a successful film producer is a huge aspiration - having the opportunity to turn an idea for a film into a real one needs big investment, and trust.
Industry professionals at the Les Arcs Film Festival have given a selected talented few the opportunity to make that happen with its 'Work In Progress' funding prize.
The winner, a German production called System Crasher, was announced at an awards ceremony in Les Arcs 2000 on December 17th.
The film takes the viewer on the journey of a little girl who goes through all possible stages of the child social system, she does not stay put in one place as she just wants to be with her mother again.
Producers, Frauke Kolbmuller and Jonas Weydemann, received 10,000 euros prize money to finish their project.
They beat off competition from fifteen other films that had been shortlisted down from more than 130 applications.
An excerpt of System Crasher was showcased on Sunday to sales agents, programmers, distributors, and other industry professionals. The producers then had to stand on a stage and pitch their film, alongside the competition.
Euronews spoke to two of the film's producers after they received their award last night.
Producer, Jonas Weydemann said he was very excited to receive the award. "I really like this Work in Progress section, it is something very special because you are coming with a film that is coming out of the safe bubble, out of the process, and you show just a little and it is the first glimpse you go out there for the industry and we received enormous feedback in the last 24 hours and we will use it to finish the film," he said.
System Crasher co-producer, Frauke Kolbmuller, said even without the award it was a great boost to be at the film festival. "To experience all of the feedback from people who had nothing to do with the project beforehand and so that was very overwhelming already and now the award is the tip of the iceberg," she said.
The two producers said they are still in the editing process so they will use the funding to finish the post-production of their film.
Speaking about the challenges of making a feature film, they said there are many, but financing is one of them when it is a debut film so festivals like this really help.