Winter of discontent? Protests spread to Brussels and Budapest | Raw Politics
Comments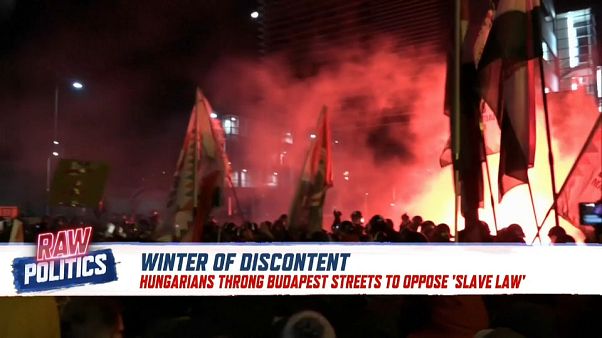 Thousands protested in Brussels on Sunday to rally against a United Nations pact on migration, which is set to be approved later this week.
The Belgian MP Mark Demesmaeker, from the N-VA party, which supported the protest and recently quit the Belgian government over the UN pact, appeared on Euronews' Raw Politics show to discuss the demonstration.
"We condemn the protests", Demesmaeker said. "But we didn't organise it, we didn't mobilise for it. It's not our rally."
"It is non-binding but it is a kind of soft law that can creep into your legislation anyway."
Hungary also saw a new wave of marches last week, as 10,000 braved freezing temperatures to protest against controversial new legislation dubbed the "slave law".
Eszter Zalan, a news reporter with EU Observer, told Raw Politics that the Hungarian protests aren't just about the "slave law".
The protesters, she said, "also call for independent media, independent courts, and for Hungary to join the European Prosecutor's office, to oversee the correct spending of EU funds."
You can watch the full debate on the protests in the video player, above