South Africans commemorate the 180th anniversary of the Battle of Blood River
Comments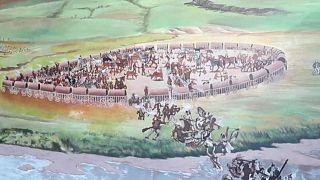 -
South Africans commemorated the 180th anniversary of The Battle of Blood River.
To remember this dark moment in history - where hundreds of Voortrekker fought thousands of Zulu resulting in more than 3,000 Zulu deaths - participants waved flags on horseback, sang songs and exhibited murals.
"A hundred and eighty years have passed, but we have approached a time these days where we can again experience the threats that can and potentially have the ability to annihilate our nation. There's all kinds of psychological, economical and physical threats," said one of the attendees.
"It's important today that we reconcile with the whites. We reconcile with whatever happened in the past. I will take it perhaps as a dark age, it was the dark age by then because we did not understand each other," Pahekinkosi Madowro, a regional councillor, said.