Raw Politics: 'Gilets jaunes' protests continue and Brexit debate
Comments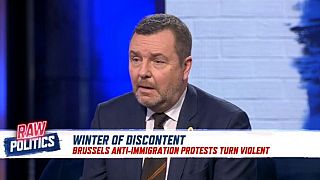 Here are some of the issues discussed on Monday's edition of Raw Politics:
Theresa May rejects calls for a second referendum
UK Prime Minister Theresa May returned to the House of Commons after the Brussels summit and quelled calls by some MPs for a second referendum.
Labour leader Jeremy Corbyn also tabled a motion of no confidence against May in a largely symbolic gesture citing the delay of the meaningful vote as his primary cause for concern.
Misinformation about the UN Migration Pact
People took to the streets over the weekend in Brussels calling for the end of the UN Migration Pact.
However social media has been flooded with misinformation about the pact and what it stands for.
'Gilets jaunes' protests continue
The "gilets jaunes" ("yellow vests") protestors took to the streets for the fifth weekend in the French capital in what was coined 'Act 5'.
This is despite a number of concessions made by French President Emmanuelle Macron since the demonstrations began, including a rise of €100 in the monthly minimum wage.