Evolution of the Les Arcs Film Festival as it marks its 10th edition
Comments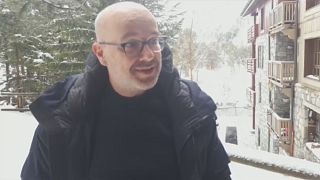 The Les Arcs film festival opened at the weekend, marking its 10th edition, with more than 120 films discoverable over several locations at the skiing resort in the French Alps.
The event, which runs until 22 December 2018, brings together industry talent, and filmgoers from across Europe.
Its aim is to promote European cinema diversity and give undiscovered directors and producers a platform to showcase their work.
Euronews spoke to the General Manager of the festival, Guillaume Calop, about what we can expect at this year's event and how the industry is changing.
"There are many events that we have developed. Some things for the people of the valley of Bourg Saint-Maurice, some things also for the professionals, and also for the public."
Those events include the screenings of new films, meetings with directors and industry professionals, as well as skiing competitions, and entertainment put on throughout the week.
"The theme of the festival is European cinema, so that's a very big thing and what is interesting is to see the evolution of Europe and of the cinema for the last ten years, I have a feeling that more and more films are distributed throughout Europe, ten years ago it was a subject of hope and now the idea of Europe is a subject of fear," he added.
Calop said French cinema is the strongest in Europe and has a strong place in the world. ''It is probably the most interesting industry for independent cinema,'' he said.
"What I find interesting is that more and more co-productions are taking place, countries are working together, to make films together but also to get the films distributed outside of their own countries, which is what we want to happen because we have this feeling that as European we discover how other Europeans live and behave, then we have a better understanding of each other and the European culture is beginning to become something real." he said.
The independent European production companies are further integrating but getting to a global audience has its challenges, as Calop explained.
"The biggest challenge today is, and we don't know where it is going, but it's the Netflix issues and distribution issues. It can be a chance or it can be something complicated because the American system is becoming very prominent and it is going to be difficult to fight against Netflix but it can also be a chance to have a larger market maybe," he said.
Calop said the Netflix monopoly is a strong issue but also because it is a new way of watching films and there is concern it will stop people from going to the cinema.
The Les Arcs Film Festival demonstrates the wide pool of emerging European talent and Calop hopes it will help push them forward despite the challenges.
"We have a very strong market, we have work in progress and we have projects in development so there are about 500 people that come around these projects and these works in progress and there are many films we that have chosen as a project or as an unfinished film that did not have a sales agent, and we highlighted them here and many of them have been to Berlin, Cannes, Toronto, to the biggest festivals, so that's a very good achievement.
"And also Son of Saul was here as a project and had an Oscar at the end so that's a very good success story and that summarises what we like to do," he said.