Same sex couples rush to marry before Bolsonaro takes power in Brazil
Comments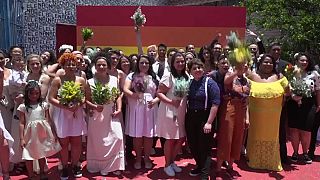 Some 40 gay couples have got married in a mass wedding in Brazil - amid fears president elect Jair Bolsonaro might restrict same sex marriage.
The event in Sao Paulo was crowdfunded by gay rights movement Casa1.
"It's crazy, right?" says newlywed Lucas Nascimento. "We were thinking about getting married in april. Than all that happened and we told each other: 'What can we do?' And this platform decided to organize this collective wedding and they helped a lot of people including us."
"We're living in a difficult moment right now," says activist Luana Hansen. "I believe we've had moments of tolerance in our country, in which people tolerated you they way you were. But now, nobody tolerates anything."
Bolsonaro will take office on the first of January - he's previously stated he'd be incapable of loving a gay son.