Protesters in Serbia denounce an alleged government crackdown on opposition parties
Comments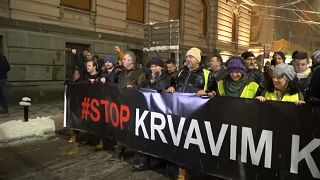 Thousands of demonstrators have braved heavy snow in Belgrade to protest at an alleged crackdown by the Serbian government on opposition parties and the media.
The protesters fear President Aleksandar Vucic may call a snap parliamentary election in what they claim are rigged conditions.
"Participation in elections would be an act of treason towards the Serbian people", said activist Dusan Teodorovic. "There can't be elections until the government sorts out forged election lists and removes the dead souls."
The second weekend of protest in a row was called by an alliance of opposition parties after one of their leaders was beaten up last month prior to a meeting in central Serbia.
It claims the attackers were supporters of the ruling Serbian Progressive Party, a claim the authorities have denied.