Australia recognises West Jerusalem as Israel's capital but won't move embassy yet
Comments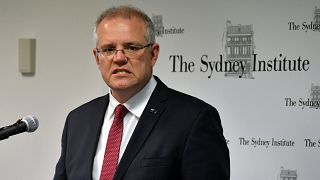 Copyright

AAP Image/Mick Tsikas via REUTERS
Australian Prime Minister Scott Morrison confirmed on Saturday that his government now formally recognises West Jerusalem as the capital of Israel, but said it will not immediately move its embassy there.
"Australia now recognises West Jerusalem, being the seat of the Knesset and many of the institutions of government, is the capital of Israel," the prime minister announced in Sydney.
"We look forward to moving our embassy to West Jerusalem when practical... and after final status determination," he added.
Morrison previously said in October that he was open to moving Australia's embassy to the city.
Israel regards all of Jerusalem as its capital, including the eastern sector that it annexed after the 1967 Middle East war, and wants all foreign embassies to be based there.
Palestinians, meanwhile, want East Jerusalem to be recognised as the capital of a Palestinian state.
The issue remains one of the biggest obstacles to a peace agreement between the two sides.
In his remarks on Saturday, Morrison said Australia was committed to a "two-state solution" to the conflict, and had "also resolved to acknowledge the aspirations of the Palestinian people for a future state with its capital in East Jerusalem."
For now, Morrison said Australia would start work to identify a suitable site for an Australian embassy in West Jerusalem and would establish a trade and defence office there.
The move by Australia comes after US President Donald Trump drew criticism last year by recognising Jerusalem as the Israeli capital, reversing seven decades of US policy.
The US embassy was moved to the city in May.