Greenland ice blocks melt in London for climate awareness
Comments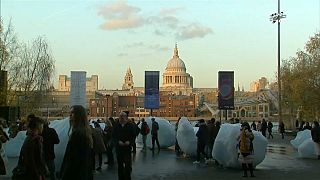 Giant blocks of ice shipped over from Greenland are being displayed on the banks of the River Thames to raise awareness on climate change.
The ice blocks are part of an artwork titled "Ice Watch" by Icelandic-Danish artist Olafur Eliasson and geologist Minik Rosing.
Eliasson, known for his large-scale art pieces, hopes the melting ice will remind passersby of the impact of climate change.
The blocks were retrieved from the waters of the Nuup Kangerlua fjord in Greenland, where they were melting into the ocean after having been lost from the ice sheet, Eliasson's studio said in a press release.
The installation, featuring 24 ice blocks, was unveiled outside Tate Modern on Tuesday (December 11) to coincide with the COP24 climate change conference taking place in Katowice, Poland.
According to Eliasson's studio Ice Watch "aims to inspire public action against climate change at this critical time".