Ex-Trump lawyer Michael Cohen sentenced to three years in prison
Comments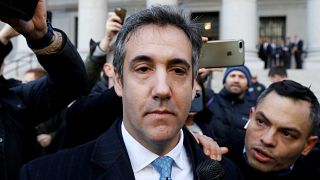 U.S. President Donald Trump's former lawyer Michael Cohen has been sentenced to three years in prison after pleading guilty to nine federal charges stemming from his failure to report millions of dollars in income making secret payments to women who claimed they had affairs with Trump.
Cohen, 52, pleaded guilty in August to charges by federal prosecutors in New York that, just before the election, he paid adult film actress Stormy Daniels $130,000 (114,000 euros) and helped arrange a $150,000 (132,000 euros) payment to former Playboy model Karen McDougal so the women would keep quiet about their alleged relationships with Trump. The president has always denied having the affairs.
Cohen also admitted to unrelated tax and bank fraud. He faced sentencing on a separate charge of lying to Congress brought by Special Counsel Robert Mueller, who is investigating possible coordination between Trump's campaign and Russia. Cohen pleaded guilty to that charge last month.
After the sentencing, Daniels' lawyer, Michael Avenatti, told reporters that Cohen is "neither a hero or a patriot." That Cohen lied for months and it wasn't until he "had his back up against the wall" that he decided to come clean.
Avenatti continued to rebuke Cohen, saying he was on a campaign to degrade him and Daniels.
"He deserves everyday that he will serve," Avenatti said of Cohen's sentencing, adding that "Donald Trump is next."
Cohen's lawyer, Lanny Davis said: "Mr. Trump's repeated lies cannot contradict stubborn facts," he said in a statement.
Trump has denied any collusion with Russia and has accused Mueller's team of pressuring his former aides to lie about him, his campaign and his business dealings. Russia has denied U.S. allegations of interfering in the election to help Trump.
Prosecutors and Cohen both say the hush money payments violated campaign finance laws and were directed by Trump himself to cover up affairs he had in 2006 and 2007. Federal law requires that the contribution of "anything of value" to a campaign must be disclosed, and an individual donation cannot exceed $2,700 (2,375 euros).
Trump said on Monday on Twitter that the payments were a "simple private transaction" that did not violate the law.
Trump's lawyer Rudy Giuliani has argued the payments cannot be considered campaign finance violations because they were made to protect Trump's reputation and would have been made even if he had not been a presidential candidate.