Guterres hails 'global beacon' as UN marks 70th anniversary of human rights declaration
Comments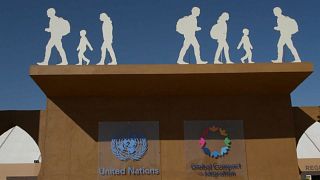 UN Secretary-General Antonio Guterres has led commemorations marking the 70th anniversary of the United Nations Universal Declaration of Human Rights.
Speaking in Marrakech at a conference on migration where heads of different UN bodies have gathered, he called it a "global beacon for dignity, equality and well-being".
"Over seven decades, the Universal Declaration of Human Rights has inspired millions of women and men to demand their rights, and contest the forces of oppression, exploitation, discrimination and injustice," he said
The anniversary is being marked in cities around the world. In Rome, hundreds took part in a torchlight vigil. Amnesty International used the occasion to criticise Italy for its treatment of asylum seekers.
"This policy of closed ports, criminalization of NGOs that help migrants and asylum seekers, they violate article 14 of the Universal Declaration which says that everyone has the right to seek asylum from persecution," said an Amnesty spokesman at the vigil.
The report lamented the "erosion of the human rights of asylum seekers" following the approval of the government's security-and-migration decree.