All-male panel at debate on improving gender equality in the military
Comments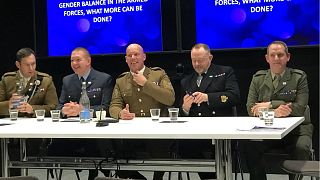 Social media users have been left confused after a group promoting gender diversity in the military shared a photo of an all-male discussion panel.
Women in Defence, a group founded by a female ex-army officer, hosted the panel to discuss what more could be done to ensure gender balance in the British armed forces.
But pictures shared on social media show five male members of the panel in front of a screen entitled: "Gender balance in the armed forces, what more can be done?"
Twitter users were quick to react, asking who represented the female voices on the all-male panel about gender equality.
Others pointed out the irony of the male panel posing for a picture in front of the discussion question about ensuring gender balance.
But are the photos missing some context?
Following online criticism, Women in Defence tweeted that the panel also consisted of two female co-chairs, who have three decades of military service between them.
And photos captured from a distance by audience members show the same two female co-chairs sitting either side of the panel.
Glenn Haughton OBE MBA, who was on Monday evening's panel, said no females had yet been appointed to the senior military positions held by those on the panel, and that the discussion focused on which steps the British armed forces had implemented to make sure they eventually would be.
"The very fact that we are all blokes tells a story in itself and that was part of the reason we agreed to it," Haughton wrote on Twitter.
"That panel would have always been male ... I doubt that will be the case for very much longer."
One female audience member tweeting about the evening agreed with the choice of the panel, adding that the audience consisted of both males and females.
"Audience, both male and female, were inquisitive and answers to questions were very honest; all male panellists were of an age to remember the 80s and 90s where things were very different for females," she wrote.
"[The panel] was able to demonstrate through personal experience how far we've come."
Another audience member said he felt it was a "very female-led discussion."
"The panel were all male because the [Chief Warrant Officers] are all male - the audience was 95% female and led the agenda, discussion and Q&A," he said.
Is this enough?
Despite additional context and positive reaction from female audience members, some people have suggested female voices could have been better included in the discussion.
The Times' defence correspondent Lucy Fisher suggested a female voice should have been included on the panel, regardless of holding a more junior rank.
"Surely good idea to have the perspective of one/more women (albeit still climbing the ladder rather than at the top) instead of 100% male panel," she said.
"If the panel had been on subject X and top five experts on X were men, the maybe fine. But this was about gender balance!"
The BBC's Susannah Streeter volunteered herself to provide guest ideas for future panels.
"As a former member of the armed forces, having represented the RAF Reserves at other gender balance events, please ask me in the future for guest ideas," she said.
"It doesn't look great that no women were on the panel," she added.
However, one former soldier said he couldn't understand why gender discussions were still ongoing.
"Seems strange that over 20 years since I left the forces we are still having these gender discussions," he said.
"When the [Women's Royal Army Corps] ended and females took their place as badged soldiers, the equal representation should have been a given! What failed? Poor recruitment? Poor image?"
Euronews spoke to Women in Defence founder Angela Owen, who emphasised the group's initiative.
"Women in Defence UK works to promote the value of women in the sector and its annual awards ceremony has received over 900 nominations," she said.
"Women in Defence UK is passionate about promoting the value of women in defence and since it was founded in 2011 it has worked to encourage women to succeed at all levels across the defence sector."