Raw Politics: 'It's like a coup' — Flemish nationalist on why party quit Belgian government
Comments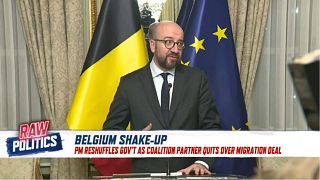 Belgian right-wing politician Gerolf Annemans and journalist Anja Waltereit went head-to-head on Monday's Raw Politics panel, discussing the UN migration pact that saw the Belgian nationalists quit the government over the weekend.
The UN pact is created to "promote migration, to enhance media to promote migration, and to severely punish media that do not promote migration," right-wing Belgian MEP Gerolf Annemans said. Claiming he represents the views of 80% of Belgium, he added, "nobody believes this pact is a good thing for Belgium."
Arte editor Anja Waltereit disagreed with Annemans' statement and disputed his 80% estimation, saying she believed the pact was "to protect borders better and to fight against human trafficking."
Watch more of the heated debate by clicking the player above.