Europe briefing: Brexit latest, 'gilets jaunes' economic impact
Comments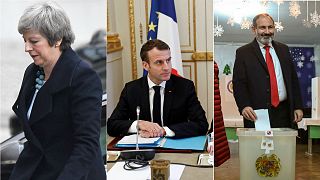 -
1. ECJ rules UK free to unilaterally stop Brexit
The European Court of Justice has ruled that UK is free to unilaterally stop Brexit process by revoking Article 50.
"We don't want to stay in the EU", British Environment minister Michael Gove told BBC Radio 4, commenting on the EU Court of Justice ruling. The UK will leave the EU on March 29, he said.
2. Reports that Brexit vote has been cancelled
The vote on British Prime Minister Theresa May's Brexit deal is planned for Tuesday in the parliament, but there have been rumours that it might be pulled.
Julian Smith, the chief whip, is reported to have told his MPs that the vote will be postponed, while Brexit Secretary Stephen Barclay has said the vote is "100% happening".
British Foreign Secretary Jeremy Hunt has said that the British government has no intention of delaying Brexit beyond March 29, 2019. "There are real risks if we don't grab this opportunity" to approve the deal, he said.
May herself might be in trouble. The 48 letters from British MPs that would trigger a leadership contest are likely to be submitted this week, The Times reports. Among Tory contenders are former London mayor Boris Johnson.
3. Gilets jaunes protests to have 'important impact' on French economy: Bruno Le Maire
The Bank of France has revised its GDP forecast for the French Q4 from 0.4% to 0.2%. This new forecast is much lower than the 0.8% Q4 goal, which is necessary to reach the French government's annual target of 1.7%. The French GDP grew 0.2% in the first two quarters and 0.4% in Q3 in 2018.
The country's transport, restaurant, hotel and car repair industries have slowed down since the 'gilets jaunes' movement began, the Bank has said.
French President Emmanuel Macron, who will be addressing the French people at 8pm tonight, has said he wants to go on a "Tour de France" to meet French mayors and to reconnect with the French people.
4. Widespread delays amid German rail strike
Long-distance travel came to a halt in Germany on Monday morning, as workers went on a nationwide four-hour strike.
The strikes, which started at 5am CET and ended at 9am CET, came after salary talks broke down last week.
Services resumed after 9 am, but operator Deutsche Bahn said disruptions were set to continue throughout the day.
You can follow Euronews' live news coverage between 6am and 12pm CET every day in the blog below: