Italy: Six dead and dozens injured in nightclub stampede
Comments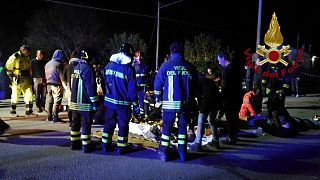 Six people have died and dozens were injured in a stampede at a nightclub in a small town near Italy's Adriatic coast, said authorities.
The incident took place early Saturday morning.
All those killed were minors except one, a mother who had accompanied her daughter to the nightclub in Corinaldo where an Italian rapper was performing on Friday night, said Ancona police chief Oreste Capocasa.
The commander of Ancona province Carabinieri paramilitary police, Col. Cristian Carrozza said the dead teenagers' ages ranged from 14 to 16 and that the woman was 39.
Thirteen of the 50 injured were in serious condition, said Carrozza.
The Italian news agency ANSA said people inside the nightclub panicked and ran for the exit doors after someone sprayed a substance similar to pepper spray.
Ancona's prosecutor confirmed that 1400 tickets for the concert were sold but that the capacity of the nightclub only allowed for 870 people.