Trump says he will nominate William Barr as next US attorney general
Comments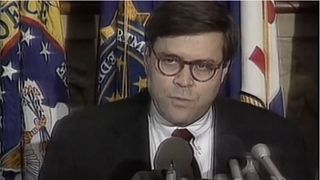 US President Donald Trump announced on Friday that he will nominate William Barr, the attorney general under former US president George H.W. Bush, as his next attorney general.
Speaking on the White House South Lawn, Trump described Barr as a "terrific man, a terrific person".
"He was my first choice from day one," he added.
If confirmed by the Senate, Barr would take over from Matthew Whitaker, who has been serving in an acting capacity since Trump forced out Jeff Sessions a month ago.
Barr, a lawyer who was previously attorney general from 1991 to 1993, has defended Trump's controversial decision to fire then-FBI director James Comey in May 2017 when he was leading the probe into Russian election interference.
As attorney general, Barr would have ultimate responsibility for the Russia probe, unless he recuses himself.
Trump on Friday also confirmed reports that former Fox News anchor Heather Nauert is his choice to replace Nikki Haley as UN ambassador.
More to follow.