Europe briefing: Brexit Article 50, France oil tax increase suspended, first female Ballon d'Or
Comments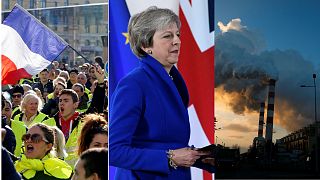 French government preparing to suspend fuel tax increases
French Prime Minister Édouard Philippe has announced the scrapping of planned tax increases on fuel today.
The government U-turn follows a weekend of violent protests in Paris that led to hundreds of arrests and almost 100 people injured. Until now, French President Emmanuel Macron has been reluctant to suspend the price hikes, tweeting on Saturday that the protests were "nothing to do with the peaceful expression of legitimate anger."
France has been hit by three weeks of protests from the 'gilet jaunes' (yellow vests) movement, which was originally launched as a response to the fuel price increases, and has since turned into a wider protest over social inequalities.
Philippe made a televised statement this afternoon with further details on the decision.
Britain can revoke Brexit Article 50 unilaterally, says EU's top court
The European Court of Justice's Advocate General said on Tuesday Britain has the right to withdraw its Brexit notice from the European Union unilaterally.
"Advocate General Campos Sanchez-Bordona proposed that the Court of Justice should declare that Article 50 ... allows the unilateral revocation of the notification of the intention to withdraw from the EU," the bloc's top court said in a statement.
While the Advocate General's opinions are not binding, the court tends to follow them in its final rulings.
The UK parliament begins five days of debates on Prime Minister Theresa May's Brexit on Tuesday and will vote on the proposed deal she has sealed with the EU on December 11.
Commemoration for Holocaust survivors in Berlin
A commemoration dedicated to Holocaust survivors was set to be in Berlin on Tuesday night.
It came at a time where concerns are growing about the rise of antisemitism in Germany and around Europe.
Bank of England governor on Brexit
Bank of England (BoE) Governor Mark Carney said there was a "low probability" of a worst-case Brexit scenario happening, referencing last week's BoE report that said a "disorderly" no-deal Brexit could be worse for the UK than the financial crisis.
"Tail risk is tail risk," he said in response to questions from Tuesday's select committee on the report. There's a "low probability that all these risks would happen at the same time."
"It's not just a question of the formal trade barriers that come into play but also shorter-term disruption in terms of port infrastructure and other logistical disruptions."
"Also a fairly severe market reaction and a shock to confidence," he added.
First female Ballon d'Or
As Ada Hegerberg took to the stage to collect her award after being crowned the winner of the first Women's Ballon d'Or, DJ Martin Solveig asked her if she knew "how to twerk".
The Lyon and Norway forward replied "no" and the Frenchman's comments saw social media set alight with people criticising the remark.
This marks the first year a female footballer has been recognised with a Ballon d'Or award, which honours the player deemed to have performed the best over the previous year.