First female Ballon d'Or winner's victory marred by 'twerk' comment
Comments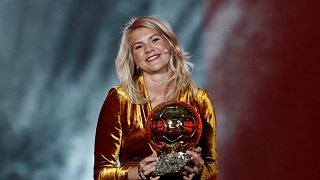 As Ada Hegerberg took to the stage to collect her award after being crowned the winner of the first Women's Ballon d'Or, DJ Martin Solveig asked her if she knew "how to twerk".
Solveig played music throughout the award ceremony in Paris and danced to Frank Sinatra with Hegerberg.
The Lyon and Norway forward replied "no" and the Frenchman's comments saw social media set alight with people criticising the remark.
"Martin Solveig really asked Ada Hegerberg, the first ever Ballon d'Or winner, to twerk. The absolute disrespect bruh," wrote A West.
"Imagine making history as being the first female Ballon d'Or at 23 and some absolute b*****d ruins that moment for you by asking you to twerk. Wow, men stay disappointing," said TBee.
The DJ has since apologised and posted a video explaining his comments on Twitter.
"This comes from a distortion of my English level and my English culture level, which obviously isn't enough," he said.
"People who have followed me for 20 years know how respectful I am especially to women," he wrote in a caption posted with the video.
Solveig wrote in a later tweet that he had "explained the buzz" to Hegerberg and she had told him "she understood it was a joke".
This marks the first year a female footballer has been recognised with a Ballon d'Or award, which honours the player deemed to have performed the best over the previous year.
Luka Modric, Real Madrid and Croatia midfielder, took home the men's trophy — the first time the award hasn't been won by Lionel Messi or Cristiano Ronaldo in over 10 years.