Watch: Argentine president left standing awkwardly after Trump wanders off
Comments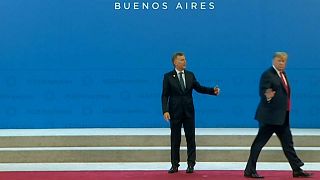 US President Donald Trump was on his best behaviour at this year's G20 summit in Buenos Aires.
But there was one rather awkward moment on Friday, that left Argentina's president bemused.
Donald Trump and Marucio Macri met on the stage for a swift handshake, before Trump quickly made his exit.
The Argentine president was left confused as he was expecting a bit more from Trump, who was expected to pose for a "family photo".
Journalists and photographers were laughing at the debacle as the assistant tried to get Trump back on stage.