Starbucks says it will start blocking pornography on its stores' Wi-Fi in 2019
Comments
By Elisha Fieldstadt with NBC News U.S. News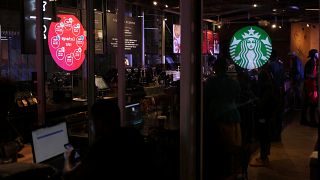 Starbucks said the company will start blocking pornography over its stores' Wi-Fi starting in 2019. The, announcement comes amid renewed public pressure on the coffee giant by an internet-safety group.
A Starbucks representative told NBC News that the viewing of "egregious content" over its stores' Wi-Fi has always violated its policy. But the company now has a way to stop it.
"We have identified a solution to prevent this content from being viewed within our stores and we will begin introducing it to our U.S. locations in 2019," the company representative said.
The announcement was first reported by Business Insider and comes after a new petition from internet-safety advocacy group Enough is Enough garnered more than 26,000 signatures.
The nonprofit launched a porn-free campaign aimed at McDonald's and Starbucks in 2014, and it says that while McDonald's "responded rapidly and positively," Starbucks has not.
Starbucks said in 2016 that the company was "in active discussions with organizations on implementing the right, broad-based solution that would remove any illegal and other egregious content," according to a statement Monday by Enough is Enough CEO Donna Rice Hughes on the organization's website. But they didn't act, she said.
"Starbucks has had a tremendous opportunity to put its best foot forward in protecting its customers from images deemed obscene and illegal under the law, but they haven't budged, despite their promise two years ago and despite the fact that they voluntarily filter this same content in the UK," Hughes said in the statement.
"By breaking its commitment, Starbucks is keeping the doors wide open for convicted sex offenders and others to fly under the radar from law enforcement and use free, public Wi-Fi services to access illegal child porn and hard-core pornography," she added.
Starbucks has not released details about how it plans to restrict the viewing of pornographic sites or illegal content from its Wi-Fi.