Video of boy in England attacking smaller boy in 'racially-aggravated assault' goes viral
Comments
By Doha Madani and Rima Abdelkader with NBC News World News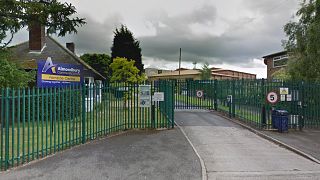 -
Video of a boy apparently choking and threatening to drown a smaller boy named Jamal, who had a cast on one wrist, has been viewed more than11 million times and retweeted at least 100,000 times.
The incident in Huddersfield, England, happened in October, police said. But the footage began to circulate on Tuesday on social media.
In the video, a boy in a blue sweater is seen calling out to another boy whom he addresses as Jamal. He then puts his hand around Jamal's throat, pushing him on the ground and pouring water into his mouth.
"I'll drown ya, you little bastard. I'll drown you!" the teenager is heard saying.
Jamal's family moved to England two years ago after fleeing Syria and living in Lebanon for several years, according to the Guardian.
Superintendent Steve Dodds, of the West Yorkshire Police Kirklees District, released a statement on Tuesday as the video began to circulate, and said that a 16-year-old boy had been interviewed in connection with the incident.
"We are investigating a report of a racially-aggravated assault of a 15-year-old boy which occurred on playing fields at Almondbury Community School at about 1 p.m. on October 25," Dodds said in the statement.
Police said in another statement Wednesday that the 16-year-old boy in the video is expected to appear in Youth Court for an assault offense, but did not specify when.
Barry Sheerman, a member of Parliament for Huddersfield, called the video "absolutely shocking" in a statement posted to Twitter.
"Have been supporting the family since it was first brought to my attention," Sheerman wrote. "Understand from council that the school have taken strong action. Will be following up to ensure all available support is being given!"
A GoFundMe created in Jamal's name has raised 98,419 pounds, the equivalent of about $126,231. NBC News was not immediately able to verify the GoFundMe.